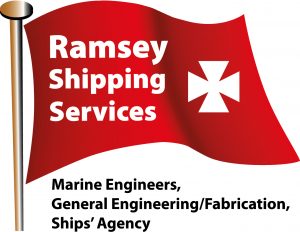 From 1st January 2014 the Workshop, Repair and Agency Services of The Ramsey Steamship Company became Ramsey Shipping Services Limited.
Ramsey Shipping Services Limited (RSS) a Workshop, Repair and Agency Service based in Ramsey, Isle of Man.
Click here to download the latest Ramsey Shipping Services Brochure
Ramsey Shipping Services Limited is part of the EMCS Group of companies, managed by EMCS International Limited.
Workshop and Repair Services
RSS Workshop handle any manner of marine (or industrial) steel, mechanical or workshop based repair with a dedicated workforce holding many years of experience and covering the Isle of Man.
Ship's Agency
Full agency services offered for any type of vessel calling in Isle of Man waters/Irish Sea. RSS are an accredited sub-agent of Lloyds Register and represent the Classification Societies interests in the Irish Sea.
Small Boat Surveys
Sale and purchase, insurance renewal, damage repair, etc., by a local, accredited surveyor with professional indemnity insurance.
Surveyor: Steve George MIMarEST
Small Boat Repairs
Engine servicing, repairs and overhauls. Qualified and experienced engineers offering all manner of machining, turning, welding and fabrication services.
Click here to download the Small Boat Surveys and Repairs Brochure
Contact details
Tel: +44 1624 817453
Mob: (Workshop) Paul Kennish +44 7624 498574 / (Agency) Mark Bumfrey +44 7624 453 095
Email: info@ramsey-shipping.com
Physical address: Ramsey Shipyard, Shipyard Road, Ramsey, Isle of Man, IM8 3DT